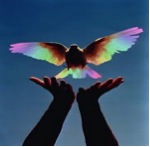 "Ah, but a man or woman's reach should exceed his or her grasp, or what's a heaven for?"
The aim of intermediate is to help you take flight …
This class will suit those who have completed the Beginner's course or have some experience of acting or public speaking. The focus is on improvisation, acting techniques – such as Meisner and Practical Aesthetics – and scene study, culminating with a performance of your scene in class. In, as always, a fun and supportive environment.
Let's play!